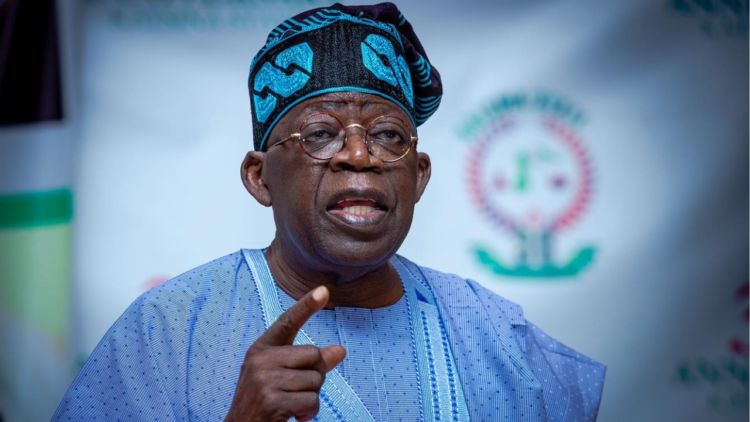 With 21 days to the 2023 general election, the presidential candidate of the ruling All Progressives Congress (APC), Bola Ahmed Tinubu, has claimed that the persons behind the current nationwide petrol and new Naira notes scarcity want to foist a political crisis on the country.
Tinubu had earlier attacked the government of President Muhammadu Buhari for introducing a new Naira policy and causing the shortage of Petroleum Motor Spirit (petrol) just weeks before the general elections, saying they are targeted at scuttling his presidential ambition.
One of Tinubu's main supporters, Governor Nasir El- Rufai ofKaduna State, has in the last few days accused some presidential aides of frustrating the campaign of the APC presidential candidate and using the new Naira policy to undermine support for the part
Speaking at Ekiti Parapo Pavilion in Ado-Ekiti, venue of the presidential campaign rally yesterday, Tinubu said the people behind the crisis that is causing nationwide frustration and hardship to Nigerians want to spark turmoil that can lead to the postponement of the general elections.
"They are hoarding Naira so that you can be angry and fight. They want confusion so that the election can be postponed. What they want is an interim government. But we are wiser than them. We will not fight. Any rat that eats the rat poison will end up killing itself," he told the audience.
The former Lagos State Governor told the people that he was in the presidential race to better their lives.
"I am in the race for the betterment of the people. If it is what I will eat and what I need personally, God has provided for me. I am in this race to make life good and better for you, too.
"Ekiti people are well educated people. They are well read; they don't joke with education. But it is not good to finish schooling and not get a job. So, we shall provide jobs for you. On that day, we will trek to the polling booths to cast our votes. Your polling booths are not far from where you live. So, you should walk down to cast your votes," Tinubu told his supporters.
Rallying the people of Ekiti to hope for better and happy life in his prepared speech, Tinubu said he believes every Nigerian is entitled to live a life of dignity.
"I believe each and every Nigerian is entitled to a life of dignity and happiness free from the fear of hunger, poverty, violence and hopelessness. I believe we can do better as a nation. I believe we must do better. History calls. Destiny Calls. Greatness calls.
"I came here today to offer you my best and assure you that I will always work for you. Take a look at my plan and ideas for the nation, you will like them because they were developed out of concern and hope for your welfare and for your future."
Atiku Campaign Accuses Tinubu Of Hate Speech, Incitement
However, in its respse to Tinubu's comments, the Atiku/Okowa Campaign Organisation has accused the presidential candidate of the APC, Bola Ahmed Tinubu, of sending his campaign officials to unleash hate speech against prominent leaders in the north and other parts of the country in a bid to incite Nigerians, cause insurrection and disrupt the 2023 general elections.
Spokesperson of the Atiku/Okowa Campaign Organisation, Kola Ologbondiyan, in a statement yesterday, said Tinubu has resorted to incendiary statements as well as deploying top members of his campaign, including a serving governor, to insult and condemn prominent Nigerian leaders as a ploy to trigger crisis in the polity.
He claimed that the APC candidate had allegedly resorted to the use of inciting comments to cause insurrection because he had realised he had been rejected by Nigerians.
Ologbondiyan said, "Our Campaign invites Nigerians to note how notable arrowheads and supporters of the Tinubu/Shettima Campaign have been moving around various media houses to spew hate speech and promote blackmailing narratives apparently with the view to undermining our national unity and derailing the electoral process.
"Such top officials of the Tinubu Campaign are also reportedly instructed to attack peaceful and well-meaning Nigerians, issue threats, incite mob actions, promote riots and violence in various parts of the country in furtherance of Tinubu's unrelenting incitement to his followers to deploy violence, fight and snatch power by all means in the 2023 general elections.
"Nigerians can still recall how Tinubu recently in London declared to his followers that "political power is not going to be served in a restaurant, it is not served a la carte. It is what we are doing; It is being determined; you do it at all costs; fight for it, grab it, snatch it and run with it"."
Ologbondiyan recalled how Tinubu, during the APC Campaign Rally in Abeokuta, Ogun State, made very wild allegations, inciting his followers to see the February 25 presidential election as a "revolution".
"It is therefore not in doubt that having failed in every parameter of assessing a credible presidential candidate and having realised that he cannot win in the election, the APC presidential candidate is desperately seeking to cause anarchy, mayhem, bloodletting, violence and a forcible overthrow of our democratic system, not minding the lives and safety of millions of Nigerians."
Cabal In Presidency Backing Atiku – Wike
Meanwhile, the Rivers State governor, Nyesom Wike, has reiterated his claim that a cabal in the APC-controlled presidency is backing the PDP candidate, Atiku Abubakar.
This is as he advised President Buhari to reconsider the manner with which the currency redesign policy has been implemented so far because it is anti-people.
Wike spoke yesterday at Comprehensive Secondary School field, Ibaka Town, Okrika Island during the Rivers State PDP Campaign Flag-off Rally for Okrika local government area of the state.
The governor said recent events had vindicated him over his initial public statement that the PDP presidential candidate and his supporters boasted that they did not need the G-5 governors to win election because they had been assured of victory by a cabal in the presidency.
He said: "I said they have been given assurance, but this election is not going to be based on that cabal's assurance. It is on the people's assurance."